so I am running a little minecraft server (running tekkit, of course) for two of my brother-in-laws. did you know that the plasma cannon upgrade in modular power suits can destroy blocks? it can. did you know that at least one of them has problems telling a left click from a right click and is a young child? it's true. did you know that means I log in to my glorious robot overlord AE system having gaping holes in it? yeah.
at first I was like "RAAAAAGE" but then I thought better of that. they're just kids dorking around and probably blew my stuff up on accident. besides, that's not all they blew up. they also blew themselves up. well, one of them did. after I repaired the damage I wrote about 3 different passive-aggressive messages on signs in the pocket-dimension machine room that's become kind of the hub of the world. I also almost completely disabled the plasma cannon. in the end I simply changed the configs to make the cannon not destroy blocks (set voltage multiplier to 0) and left this message: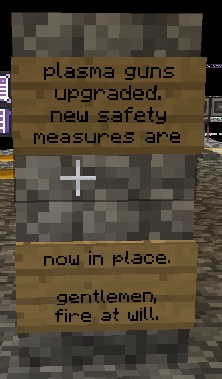 I think it's dumb to just disable crap because someone accidentally misused it. and leaving some "shame on you!" note won't really help. they've got enough issues in real life without their brother-in-law scolding them in minecraft too. by removing the block destruction from the plasma cannon, they can still play with it and enjoy it, they just can't accidentally blow holes in things. I think that's a pretty win-win outcome. plus, framing the news as an "upgrade" not only sounds cool, but it also lets them know that I know what happened, that I fixed it, and I'm not upset about it.
when did I suddenly become an adult? =/