I am angry. I spent this evening playing DnD, half of which was spent in the dark being hot and sweating. in the grand scheme of things, tonight's encounter was not TOO bad. no retarded terrain, and only one flying enemy always being out of reach. however, tonight's encounter was the proverbial straw which broke the camel's back. I'm completely done trying to play a tank in a game that is engineered to ensure I can almost never do my job as a defender class. not only can I never do my job, I am a detriment to the party by being a low damage character.
Follow up:
in this encounter, I tanked 5 enemies for 2 rounds and practically exploded after the first round. despite being hit by only TWO of the enemies. however, I did prevent them from going after the rest of my party who spent those rounds bumbling around presumably looking up the definition of "focus fire" because they couldn't do it to save their, or my, lives. allow me to show you the board and then I will explain.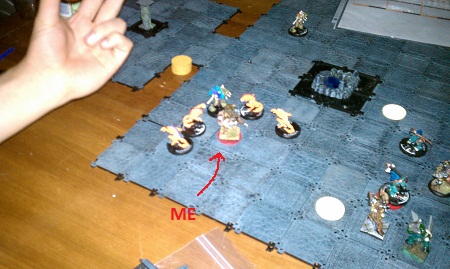 the three circles minis are the enemy creatures. not pictured is our seeker, who is also over there with the rest of the party. the white circles are showing the corners of a zone, created by our seeker, of difficult terrain. the reason I'm all alone is that I rolled really low initiative so I went last. our party beat up on the bluish guy in the corner of that little formation there, who then ran off and healed while his identical friend shot arrows at us. there are ALWAYS guys like this in every encounter this DM does. ranged mobs that have huge attack bonuses and even more ridiculous damage. the only way to deal with them is to rush them and get up in their grill, so they stop attacking the squishies. since our idiot seeker had locked everyone down with those other mobs and the whole party was there I figured they had that under control. so I charged after the range guy to keep him busy while the party cleans up the other mobs who weren't doing much damage. I am then jumped next round by all those tiger guys. 2 hit me for something like 22 damage total. 22! at level 5! but it's cool, I'm getting healed, I kill 3 of them with an encounter (tigers are minions) and I think we're shaping up ok. nope. party takes forever to kill those three guys thanks to idiot's zone preventing shifts and their lack of coordination. in the mean time, I've taken another 20+ damage from the non minions over by me thanks to their ludicrous attack bonuses and minimum 12 damage per hit.
in the end, they finally kill those guys and come help me. once they do, a flying thing comes out of the well and starts attacking people from 2 squares off the ground (I DO so love that) and dealing serious damage. I proceed to miss all my attacks for 3 rounds and ALMOST completely die from one mob hitting me when I was at 1 hp. I was 8 hp away from complete death. to put that in perspective, you need to hit negative half your max HP to totally die. our party blows ~5 dailies total to kill this flying thing then finish the last guy.
at this point, the DM tells us that next week we'll be able to spend x amount of gold and get one of our generic magic items turned into a non generic magic item with the same enhancement. oh but we can't pick any of the GOOD ones, that's not allowed. also brutal weapons can't have anything but generic enchantments because half the group is butthurt over mythachu's 2d6 weapon that's brutal 2 (brutal x means you can't roll x or below on damage, if you do you reroll the die. brutal 2 on a 2d6 means she can only get 3-6 on each die). at this point I had had it.
we have been so handicapped in this campaign and faced such ri-goddamn-diculous encounters that it isn't even funny. so many of them should have killed us but didn't only because the DM deigns to let us live by not utilizing the monsters effectively, even for stupid monsters! I've had RANGED ARTILLERY MOBS randomly melee me for pathetic damage after spending the last 3 rounds shifting back and shooting at me for 1/5th of my life or more. they still had room to shift and shoot, but THAT would have killed me, can't have THAT! flying mobs that spent the whole encounter out of melee have JUST SO HAPPENED to not make it out of melee when it would have otherwise killed us. things go through great pains to break my marks so they can hit someone else, since I'm low on hp and the leader's out of heals. it's stupid!
I don't want to win because someone LET me, I want to win because I earned it. it's insulting to me to be treated this way. I'm purposefully handicapped so that I CAN'T win based on anything but DM intervention. THAT IS NOT FUN. THAT IS NOT EXCITING. that is an insult to me as a player. I am tired of being nerfed, handicapped, and systematically forced to be useless so the DM can go on believing he's actually any good. encounters have been 3, 4, 5, sometimes 6 or 7 levels over the party. that's stupidly hard NORMALLY, but of course that isn't good enough. allow me to list the handicaps our party has:
-low level, started at level 1 (we're gaining fast but not THAT fast. currently level 6)
-restricted races, orcs, half-orcs, and goblinoid races ONLY
-restricted magical items, plain +1s for weapons and armor with the RARE "special" type that can be anything but useful (AKA "too good")
-no shops to buy supplies/scrolls/potions. we're goblins, orcs, and bugbears. we don't do cities.
-our seeker. fires off all his dailies every time he can and helps the mobs more than us usually. has crap attack bonus so he never hits
-our ranger. he's melee, marauder style. never throws anything. never does appreciable damage because his char build sucks. no twin strike on a ranger? fail.
-encounters far, FAR above our level
-monsters with special movement modes. everything flies, swims (but you can't of course), jumps, teleports, or burrows. EVERYTHING.
-a DM who never provides useful or needed information but always provides useless or impossible to know information. i.e. "how far does the quicksand extend?" "you can't tell" but we ALWAYS know when a monster recharges a power.
all of that combines to form a recipe for making it impossible to win through skill. most of all it combines to make the most unfun and aggravating experience EVER for a defender class. it's entirely engineered to ensure I can't keep a mark up, can't force anything to stay on me, can't do ANYTHING. I can't even hit most of the time thanks to stupid flying creatures or huge ACs.
I got so fed up with this crap that I spoke up and complained that I am completely unable to do my job. I told the DM that I don't enjoy the fact that we only win because he lets us. he tried to say that of course that's not the case and he's just being tactical and blah blah, which would have been unremarkable except our seeker felt the need to butt in. APPARENTLY everything is all my fault. if I had just stuck with the party in this encounter, everything would have been totally fine. I mean, man I just ran off so of course I'm gonna get ganked, I didn't stick with the group! how can I complain about the enemies not focusing when CLEARLY I'm so bad with tactics that I ran off THIS ONE TIME? I should just not run off like that man, I mean look at this encounter: I was by myself! duh! to make matters worse, the DM then chimes in talking about how brilliant the seeker's difficult terrain daily was this encounter. the one that caused THE REST OF THE PARTY to take far longer to kill three guys than they should have because THEY CAN'T SHIFT. I just about completely blew my top. after it was apparent that this idiot would not shut up about me tanking all those dudes for everyone, despite me telling him I was not talking about this specific encounter, but the campaign in general, I laid it out for him. I explained that I went over there to tank damage and tie up the mobs, AND I SUCCEEDED. I DID MY DAMN JOB. then told him to shove it. conversation was over at that point.
so I am taking action, I will no longer tank for the party. I am playing a rogue instead. rogues don't NEED magical items to destroy people. rogues just need a plain old dagger or other light blade. the DM lowers monster HP and ups their damage to ridiculous levels. the only way to win is to kill them faster than they can kill you. attack bonuses are off the charts, high AC is not worth much. the only thing that matters is damage per round. I will break his game. I will be huge dick. I will call out others for making terrible moves or hurting the party. I will not be silent, I will not fume inwardly, I will be upfront and open about my disdain for things. I will nickel and dime the DM on everything. I will rulemonger like never before. I will make sure everyone knows why this entire campaign is utter crap, including the DM. and if I hear one word from the seeker about my tactics or any decision I make ever again, I am simply leaving. even if it's the middle of an encounter, I will leave and never go back. I've got other things I could spend my fridays doing that are far more enjoyable